If you were to ask a founder or CEO of a successful professional services firm what's her or his secret to growth, most will say something along the lines of "hiring the right people" or "building a great company culture" or, for the more humble, "being in the right place at the right time." Few would say "picking the right partners." However, hitching your wagon to the right technology partners and building a mutually beneficial relationship with those partners, can mean the difference between growth and hyper-growth.
Having spent more than two decades leading sales, business development and M&A at product and services companies from HP to Appirio, I can tell you from first-hand experience that partnerships are the fuel for company growth.
Alliances help in so many areas. They can grow revenue by attracting new customers or broadening a company's offerings. They can make you stickier inside an existing client, or help expand brand awareness and market presence. They can round out areas where you are weak (or where customers perceive you're weak), and even speed time to market through joint innovation.
Unfortunately, too many companies treat their partnerships and alliances program in an ad hoc way, rather than as a strategic function of the business. Perhaps this is why 60-70% of partnerships fail to achieve what they set out to do. However, that doesn't have to be the case. With the right strategy, selection criteria, structure, and success processes in place – what I call the four S's – alliances can contribute greatly to your bottom line.
Craft Your Alliances Strategy
Whether you're starting with a clean slate or have some partnerships in place (which is more often the case in my experience), you need a strategy.
Any good partner strategy starts with a strong understanding and alignment with your company goals and go-to market strategy. For example, is your goal to expand your market presence or build brand awareness? Or to broaden your product and services offerings? Or to shore up some perceived weaknesses?
If it's to expand your market presence you'll need to do due diligence and prioritize which markets to target, evaluate if a referral, reseller, OEM & distribution model fits your needs, estimate the resources required to support these channels and build a short list of potential partners.
If your goal is to become a specific technology or platform vendor's top implementation or solution partner (or perhaps eventually be acquired by that vendor), your strategy might be to go all in on that one company.
If your goal is to be the leading systems integrator for a specific area (e.g. security, data analytics, IoT) or a specific industry (e.g. healthcare or financial services), your strategy might be to create partnerships across the entire stack of tech vendors within that space.
One example of this strategy in practice is BeyondID, a managed identity services provider in the identity access management (IAM) and cybersecurity space. BeyondID began by focusing on Okta, the leading cloud identity platform in the $55B identity market, managing some of their largest customers. The company has since formed partnerships with other cybersecurity and cloud vendors, expanding into new areas and revenue streams. Okta's $6.5B acquisition of AuthO, an identity platform for application developers, opens up yet another opportunity.
No matter how many partnerships a company chooses to pursue — and I would argue that less is more — it's important to remember all partnerships are not created equal. They can and should vary widely in importance, from those that you happen to interact with on a regular basis to those that are foundational to your corporate strategy.
Select the Right Partners for Your Strategy
Now that you've aligned your partner strategy with your company goals and go-to-market objectives, the next step is to find the right partners to help you meet those goals. Just like with employees, selecting the right partner(s) will set you on the right path.
First, define the criteria (internal and external) for your ideal partner. Here are a few questions to get you started:
How does the partnership fit within your corporate strategy?
How does the partnership align with your growth objectives?
How can the partnership expand or complement your current capabilities/offerings?
What is the partner's position in the competitive landscape?
What is the partner's geographic coverage & focus?
How mature is their partner ecosystem?
What level of support is the partner prepared to provide?
If you already have partnerships in place, review those existing relationships based on these criteria. What's working, what's not?
When identifying prospective partners, you want to pick clear leaders in their category. Start with a short list of three to four (unless there's already a clear winner), and then do some diligence. This will take time but, trust me, it will be worth the effort.
Here are a few things I look for in the diligence process:
Are they a leader in their category as defined by revenue, marketshare, or analyst quadrants?
What is the partner's total addressable market?
What is the partner's growth rate?
Can I meet my growth/revenue goals in this ecosystem?
How crowded is their partner ecosystem with competitive companies/offerings?
Is there whitespace where my company can differentiate and be successful in the ecosystem?
Will my services rate structure/product pricing model be competitive in their market?
Do I have, or can I build executive alignment/relationships?
Is the partner willing to co-invest in the partnership?
The diligence process is meant to narrow down your choices, and to make sure you're aligning with a partner that can bring real value to your company and customers. But from there it's a courtship, with each side getting a sense for what it would be like to live together. These early discussions with partners are a chance to see if your values align, to get a feel for how they'd treat your customers and employees, and to more fully understand what they're looking for out of the relationship. Like any marriage, you want to be with someone who sees value in what you bring to the table and will treat you with respect.
A partnership might not always be equal, but it should be balanced.
Consider a Three-Tiered Alliance Structure
A well-defined partner structure signals both internally and externally which partners are most important to your strategy. Too often I see partner pages littered with a large number of logos. In an attempt to illustrate market dominance and coverage, this to me just screams, "We really don't have a partnering strategy, so let's throw up a bunch of logos and hope for the best."
What is meant to be a benefit to the company ends up being a distraction. Sales doesn't know what to sell, marketing isn't investing in the highest return campaigns, and delivery teams and/or engineering teams find themselves spending precious resources on solutions that will never be implemented. In the end, a lot of corporate calories are expended with little return.
One way to bring some structure and prioritize your partnerships is in a three-tiered system, organized like a pyramid.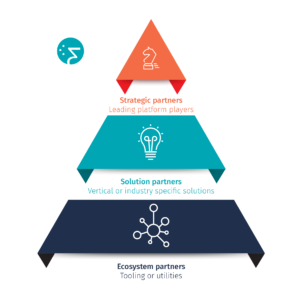 At the top are your truly strategic alliances. This could be just two or three partners, but they are the ones your whole company will invest in. Sales and marketing teams will partner with them on key accounts and campaigns, engineering teams will collaborate on solutions, delivery teams will be trained on how to engage, etc. Strategic partners should be an integral part of your team, and will probably stick around longer than your biggest customers.
Next are solution partnerships, the ones that complement your strategics in some way and help you bring a more comprehensive solution to your customers. You'll potentially have a few more of these than your top level strategic partners, but the number might still be fairly low. There will be investments made here, but not at the same level as with your strategics.
At the bottom of the pyramid are ecosystem partnerships, which might include dozens of companies. These are the partners that fill in a gap, are relevant in some way to your customer base or contribute to your go-to-market strategy. You'll have to take a hard look at how to invest with these partners, if at all, but be clear about who they are and where they fit in the strategy. Sometimes they will graduate up into a higher level partnership, but in some cases they might remain just a small component of your larger offering.
There should be a different playbook for each level of partnership, and executives and employees should be aligned on their level of importance. Without that prioritization and alignment, you'll end up with empty agreements that don't add value, or teams wasting precious time and resources that would be better spent elsewhere.
Manage Your Joint Success
Alliances don't manage themselves. They take time to nurture, structure to be effective, and ongoing focus and commitment to really see results. McKinsey has done some great research into what makes a successful joint partnership.
When it comes to managing the success of your partnerships, it helps to consider where your company is in its lifecycle. Small, early-stage services firms may utilize the crowd swarming methodology to partner management where the executives 'own' the relationship and spread the other functional relationship components off to sales, marketing, and delivery. This works for a while, but with senior leaders in start-ups wearing multiple hats, effectively managing these partners can either become a distraction (especially if there are multiple partners) or it doesn't get the attention it requires. This can be especially true with large strategic partners. While these companies may accelerate your pipeline quickly, they can also drown you with activity. They may outnumber you by 1000:1 and may have a different sense of time and urgency.
Services companies that want to gain traction with large strategics and/or that are later in their lifecycle with more capital, should consider bringing on a dedicated alliances lead to add some method to the madness. Look for an alliances lead with a strong sales background who can help prioritize the organization's resources and focus on driving business.
As the number of partners and activity grows, you'll likely need to add additional alliances resources. One way to think about these hires is to do a value assessment of an additional sales headcount versus an additional alliances headcount. There are definitely scenarios where an additional alliances headcount with the go-to-market leverage of a strategic partner will drive significantly more pipeline than a more costly field sales person.
In closing, like any relationship, partnerships aren't easy, but they are incredibly rewarding. For services firms, they really should be a core competency. If you find yourself without a well thought out plan in this area, or a website full of partner logos that are contributing little to nothing to your bottom line, I hope this guidance helps. If not, it might be time to seek some counseling from a professional.