Discover the methodology behind the Tercera 30, one investment firm's view into the most promising enterprise software ecosystems for service partners.
With literally hundreds of cloud software vendors vying for coveted spots in the ever-evolving enterprise IT stack, technology services firms have to make difficult decisions about which partners and platforms they should support.
It's a decision that can't be taken lightly. In fact, we'd argue that selecting the right vendor to align with plays a huge role in any technology services firm's future success. Software partner programs can drive demand for services, generating high-potential leads and deal flow to support profitable growth. However, building these partner relationships takes time and money, and not every partner program – or market or software platform – is created equally.
The Tercera 30 offers the perfect starting point to identify the right software partner
Tercera debuted the Tercera 30 in 2022 to help entrepreneurs and services leaders identify the right software partner(s) for their business. This week we'll be introducing the Tercera 30 class of 2023.
The Tercera 30 started out as internal research to help us better understand which software ecosystems offer the greatest potential for high growth consultancies, system integrators, and managed service providers (MSPs) over the next two to five years. It has since helped guide the investments we've made to date, as well as inform expansion opportunities and guide our future investments.
We believe others can benefit from this data, so rather than hoarding it, we've made much of it publicly available.
The 30 software companies profiled on each year's list offer a view into both entrenched and up-and-coming partner ecosystems. The names on the list are a mix of publicly traded and privately held companies, and they span categories that are important in the cloud's third wave. Categories range from cloud infrastructure and cybersecurity, to data and analytics and AI, to customer experience and business operations (to name a few).
We believe each company on the list can realistically support a growing technology services firm or practice area of at least $10 million. The companies profiled in our Tercera 30 research all offer market-leading products in growing categories, coupled with a corporate growth strategy that depends heavily on a dedicated partner ecosystem.
The Tercera 30 selection process
We start with a list of 150 enterprise B2B software companies that rely on services partners for growth, and analyze them across a wide range of weighted factors. We factor in things you'd expect — total addressable market, year over year growth, innovation and sector demand — but we also consider how a software company views and supports its partners. We believe that matters just as much – if not more.
The Tercera 30 selection process focuses on these four dimensions of a high-caliber partner ecosystem:
1. Market size and potential: What is the current and future size of the market? Is the segment big enough to support a $10M technology services practice or a $50M business?
2. Brand and growth potential: Is the software company perceived as a leader in that fast-growing segment? Is it considered dated technology, or is it taking share? Is the company investing in the product and future growth?
3. Potential for external services: Is the product targeted towards small and medium businesses and easy to implement? Or is it enterprise-grade technology that can be highly customized, paving the way to medium to large projects with high service intensity? Is there a level of talent scarcity around the platform necessitating the need for outside support?
4. Partner support and collaboration: How open and supportive is the partner program? How easy or difficult is it to enter as a new partner? Are Global Systems Integrators taking interest? Is there an internal professional services team with which partners will compete for work?
The answers to these questions are equally informed by data, industry opinion, and actual partner experience.
To tease out each area, software companies are scored using 21 different types of weighted data. Some are hard numbers gleaned from public sources. Others are more subjective and heavily informed by insights and opinions from Tercera partners and portfolio companies, investment banks, and industry analysts. Partner leads at several software companies also weighed in during the selection process.
In 2023, Tercera introduced a qualitative survey of 55 executives from services firms that play within the Tercera 30 ecosystems to better understand their experience. The online survey, fielded between June 5 and June 26, 2023, gauged perceptions of existing software relationships, future partnerships being considered, project sizes, and the role of AI in future business strategy. We also looked at what makes a technology services firm recommend a software company partner program, and what doesn't. Finally, we gauged the relative importance of criteria like customer referrals and deal size, as well as sentiment and perception around a vendor's willingness to work collaboratively, quality of partner support, degree of partner saturation, and existence of channel conflict.
The Tercera 30 winners perform across a variety of factors
All the research, data, and findings from these various sources filter into the scoring formula below. Two variations—one for public companies and another for private companies—account for variances in the types of data available.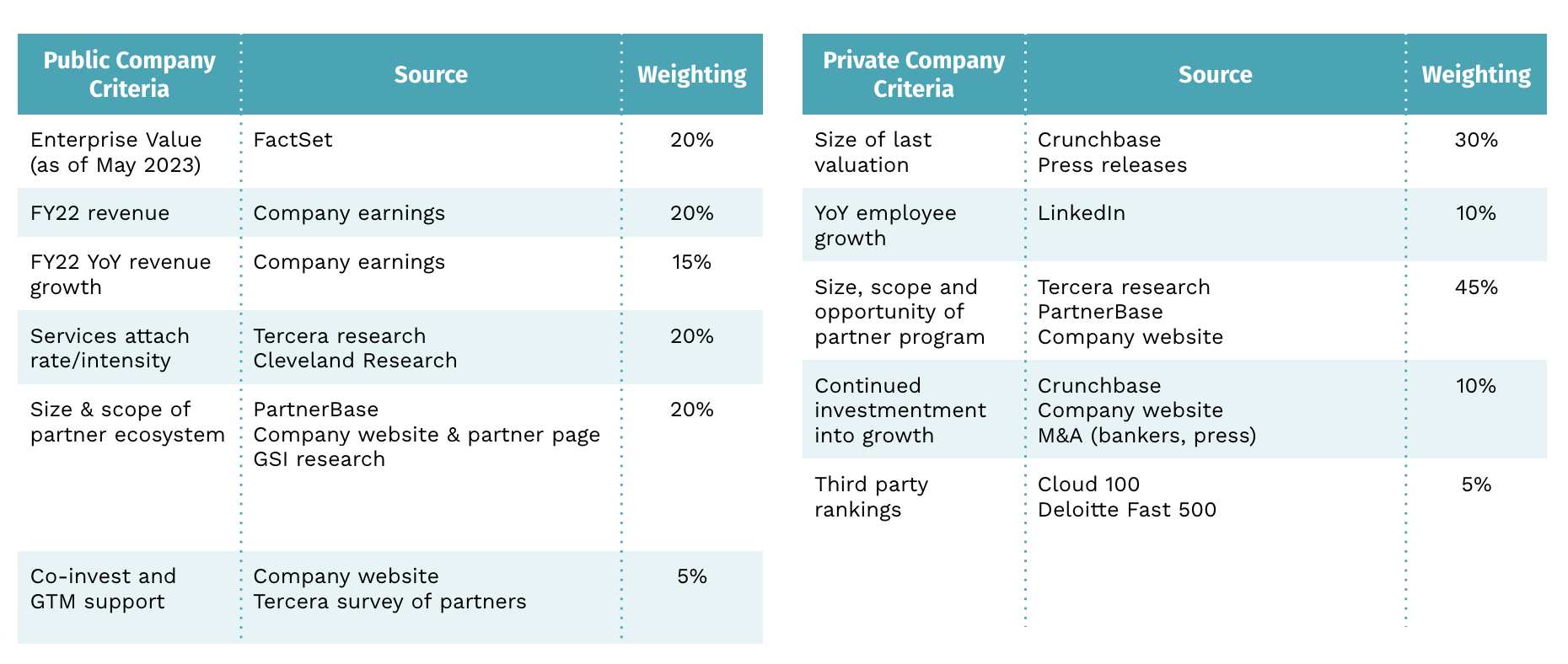 The results point us to the final Tercera 30 list.
The partner "sweet spot" is a key consideration
Because the Tercera 30 includes both public and private companies, well-established firms as well as new players, the maturity of the partner ecosystems can and does run the gamut from nascent partner programs to highly mature programs.
We believe there is a sweet spot when it comes to new firms entering these ecosystems: the partner program should be mature and established enough to support (and reward) partners, but should still have enough white space for new entrants.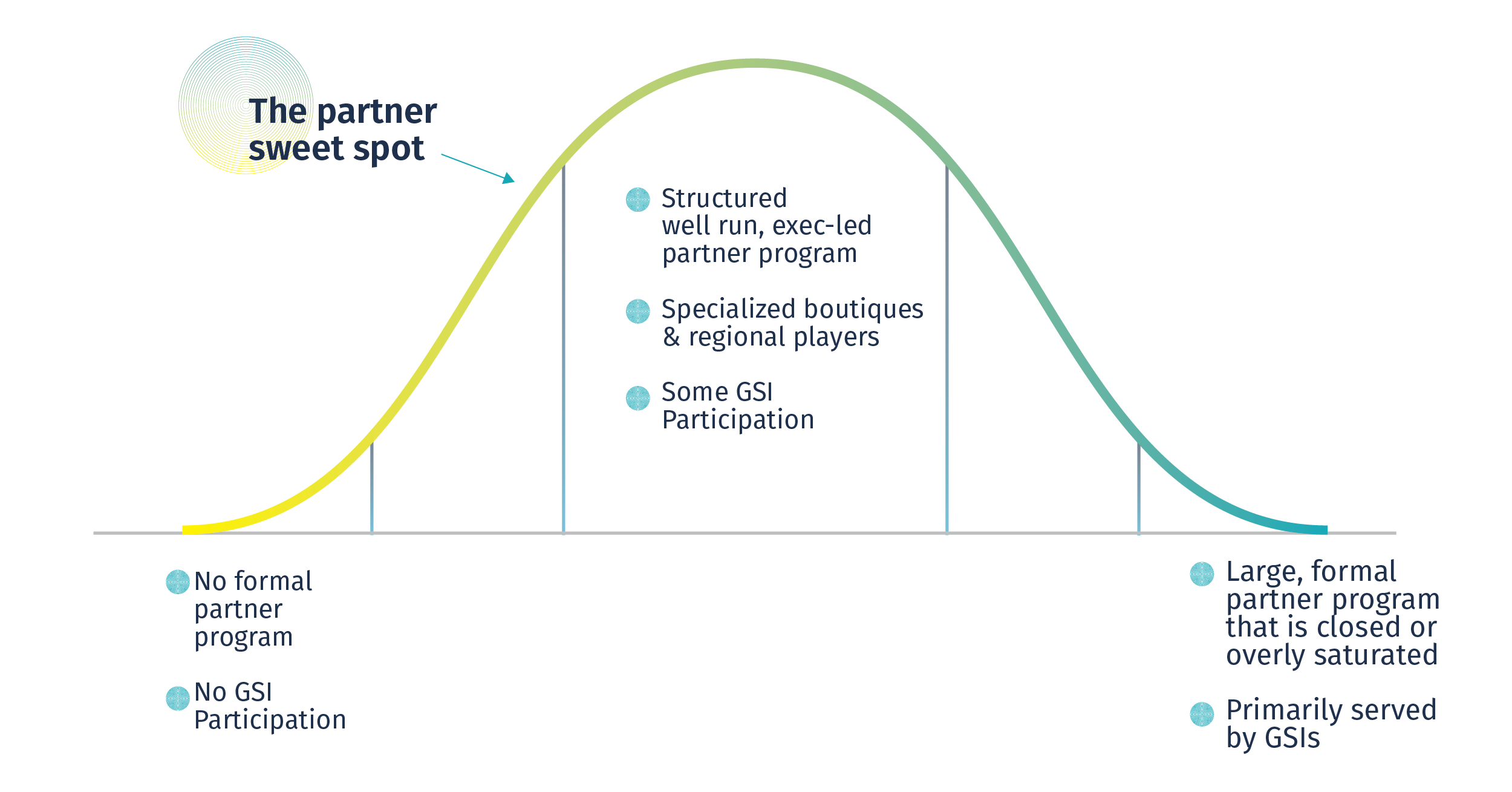 There is opportunity for technology services partners to be had in each phase, however, those opportunities vary significantly and should be carefully considered.
For example, a high-growth player with a nascent partner ecosystem can be extremely appealing to smaller services partners who can be specialists and drive demand alongside the software vendor. For services firms that get in early, it's an opportunity to become the go-to partner, but there will likely be growing pains in less mature ecosystems.
At the other end of the spectrum, mature partner ecosystems may be harder for a new partner to break into, but they offer more training, support, and potentially, access to larger customers. These mature ecosystems are well suited to technology services firms that can find the right niche, whether that's a specialist in a certain aspect of the platform or an industry specialist.
Before jumping head first with a new software partner, it's critical to understand the maturity of the ecosystem and how it meshes with a firm's own growth strategy and ability to differentiate and support customers.
Dive deeper into the opportunities in the 2023 Tercera 30 full report
We invite you to meet the 2023 Tercera 30 on September 6, and to use this data to inform a short list of your own.