The news of Salesforce acquiring Slack for $27.7B rocked the tech world earlier this week. Not only is it one of the biggest acquisitions in tech history, it's also a game changer for Salesforce in many ways. Marc Benioff bills the Slack/Customer 360 combo as "the new operating system for a new way to work", but more importantly it gives Salesforce an edge in its competition with Microsoft at a time when Microsoft Teams appears to be gaining huge traction in the enterprise.
While everyone circled around the Slack news, most people completely missed Salesforce's announcement that same day that it planned to acquire Acumen Solutions for $570M. Acumen, one of Salesforce's top 10 global partners which has grown to more than 1,000 employees over the last 22 years, is one of few remaining independent cloud consultancies. Yet, financial analysts buried it as a footnote in Salesforce's earnings coverage, and Salesforce beat reporters completely ignored the news.
Here are three reasons why this move matters.
It's a substantial deal.
Clearly $27.7B is a lot more than $570M, but that's still a pretty sizable outcome that deserves more than just a footnote. It's not only the biggest professional services acquisition in the cloud market to date, second only to Apprio, which was acquired by Wipro for $500M in 2016. It's also the only sizable services acquisition Salesforce has made in the last decade (even though they've quietly invested in north of 50 services firms to build out their ecosystem).
While there have been billions of dollars in exits by professional services firms in the cloud space over the years, few have topped the half a billion mark. The graph below highlights a sample of the largest cloud services acquisitions to date, and the value of those deals.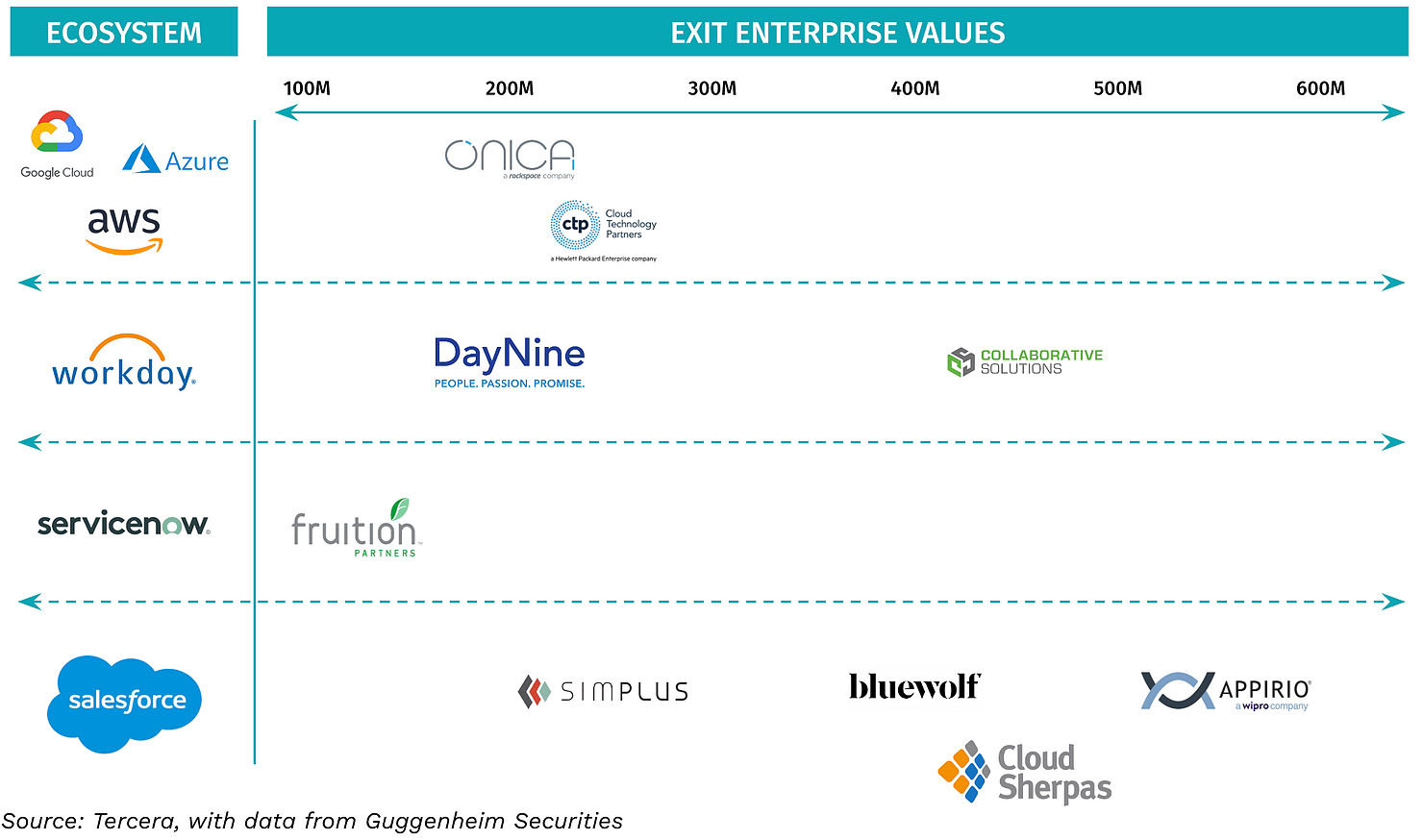 The revenue Acumen will bring to Salesforce makes it more than just a tuck-in as well. While Acumen is a private company and doesn't release revenue numbers publicly, in a call with analysts Salesforce said the deal is expected to contribute $150M in revenue in Salesforce's next fiscal year. Having gone through the ups and downs of integrating an independent services firm into a large public company, and the near term impact that can have on revenue during the integration period, I can tell you that Acumen's revenue is likely well above this estimate. This means that while Acumen certainly didn't get the ~35x multiples that Slack did, it was still well north of the .5 – 1.5x revenue that investors often expect from exits in the professional services realm, and a strong competitive multiple in the cloud services space especially at this scale.
It's highly strategic to Salesforce.
Salesforce, already nearing $20B in annual revenue, continues to grow. Just this week they provided FY22 guidance that would put revenue above $25B in the coming year. A lot of that growth is driven by large, complex enterprise customers who are using Salesforce and its expanding portfolio as a foundation for their digital transformation efforts. Yet, Salesforce's professional services business still makes up only 3-4% of the company's revenue.
Salesforce has done an incredible job over the years building out their consulting ecosystem, but when it comes to large, complex, transformative projects like those they're now involved in, it
s not as easy to completely hand over those relationships to partners. Salesforce itself needs to be able to provide the strategic counsel, customer insight and vertical industry expertise customers need. When it comes down to it Services = Customer Success. And no one claims to care more about customer success than Salesforce.
When it comes down to it Services = Customer Success. And no one claims to care more about customer success than Salesforce.
Acumen is a great fit for Salesforce in a number of ways. They have a great blend of management consulting, tech implementation, and managed services, all of which are important for long-term customer engagements. They are specialists in a number of Salesforce's recently acquired technologies (e.g. Tableau and Mulesoft) and other technologies surrounding the Salesforce platform (e.g. Docusign, Medallia, Coveo).
Last, but certainly not least, they are prolific and well-regarded in the public sector. They claim to have 10 of the top 12 federal agencies as customers, and anyone who has worked in the public sector can attest to how difficult it is to serve that sector without the right people and credentials in place. If Salesforce wants to provide services and support to this market directly, which they do, they'll need more expertise in house.
It highlights a different path for services firms
Finally, it shouldn't go unnoticed that the biggest outcome yet for a professional services company wasn't to one of the Big Global SIs like Accenture or Deloitte. But to a strategic software buyer.
At Tercera we say that software might be eating the world, but it's people who make, deploy, manage and use that software. People are required to make technology work, and many of the cloud ISVs recognize this. Whether you sell to small businesses like Wix or Shopify, or large enterprises like Okta, HashiCorp, Twilio or Splunk, customers need support. They need help using these products, designing and architecting solutions around the products, and help implementing and integrating them into existing systems. If vendors can't help their customers be successful, it's easy enough in today's world to go somewhere else.
Some are building these consulting capabilities through partners as Salesforce has over the last 20 years. But, like Salesforce, many are starting to realize that they need some of those capabilities in-house if they're going to maintain the customer relationship. I think we're going to see more and more of these strategic acquisitions over the next few years.
I'll end by saying I couldn't imagine a better home for the incredible team at Acumen, including my good friend and former competitor, Dave Joubran, and his trusted lieutenant, Shally Stanley. I still have fond memories of meeting with Dave over beers at Dreamforce to compare notes, swap war stories, and contrast our vastly different approaches to building a business.
Salesforce might be the holy grail of homes for services firms. They have a history of doing these acquisitions right. Model Metrics, which was acquired nearly 10 years ago as part of Salesforce's social enterprise push, is considered by many Salesforce insiders as one of their most successful acquisitions to date.
Here's hoping the same will be said for both Slack and Acumen, and that future services deals in this space get a little more attention. The attention they so rightly deserve.