Why do you work? Why do you work at this particular job, in this particular company? The answers to these questions will be as varied and numerous as individuals within a company.
In an ultra-competitive talent market, it becomes more important than ever to know why your teams continue to choose your company, and to understand and appeal to what they value most. While compensation is undoubtedly the biggest factor in why we go to work, there is hopefully much more that forms the full picture of why we do what we do. It could be health benefits that dependents rely on, unlimited time-off policies, or progressive parental policies that match up with the family planning horizon. Most likely, it is a combination of these things.
What we know for sure is that people, and teams, value different things. And what they value, and what they need, evolves over time. That is especially true in today's environment when many organizations are adapting to a workforce that is increasingly diverse, distributed and in demand. There are challenges with this new environment, such as different levels of access to benefits and resources across the globe. However, there are also opportunities, including an opportunity to customize your total rewards package in a way that keeps teams happy and engaged.
What do I mean by total rewards?
A total rewards program is key to the employee experience. When done well, a total rewards strategy elevates that experience, enhances the brand and creates value for the company in reputation and esteem. When done poorly, it dampens the employee experience, reflects negatively on the brand and breaks down that value creation.
The total rewards universe is broad and includes everything from compensation and benefits, to diversity and community impact, and everything in between. Below are eight primary areas that should factor into a total rewards program, and in-turn your employee experience.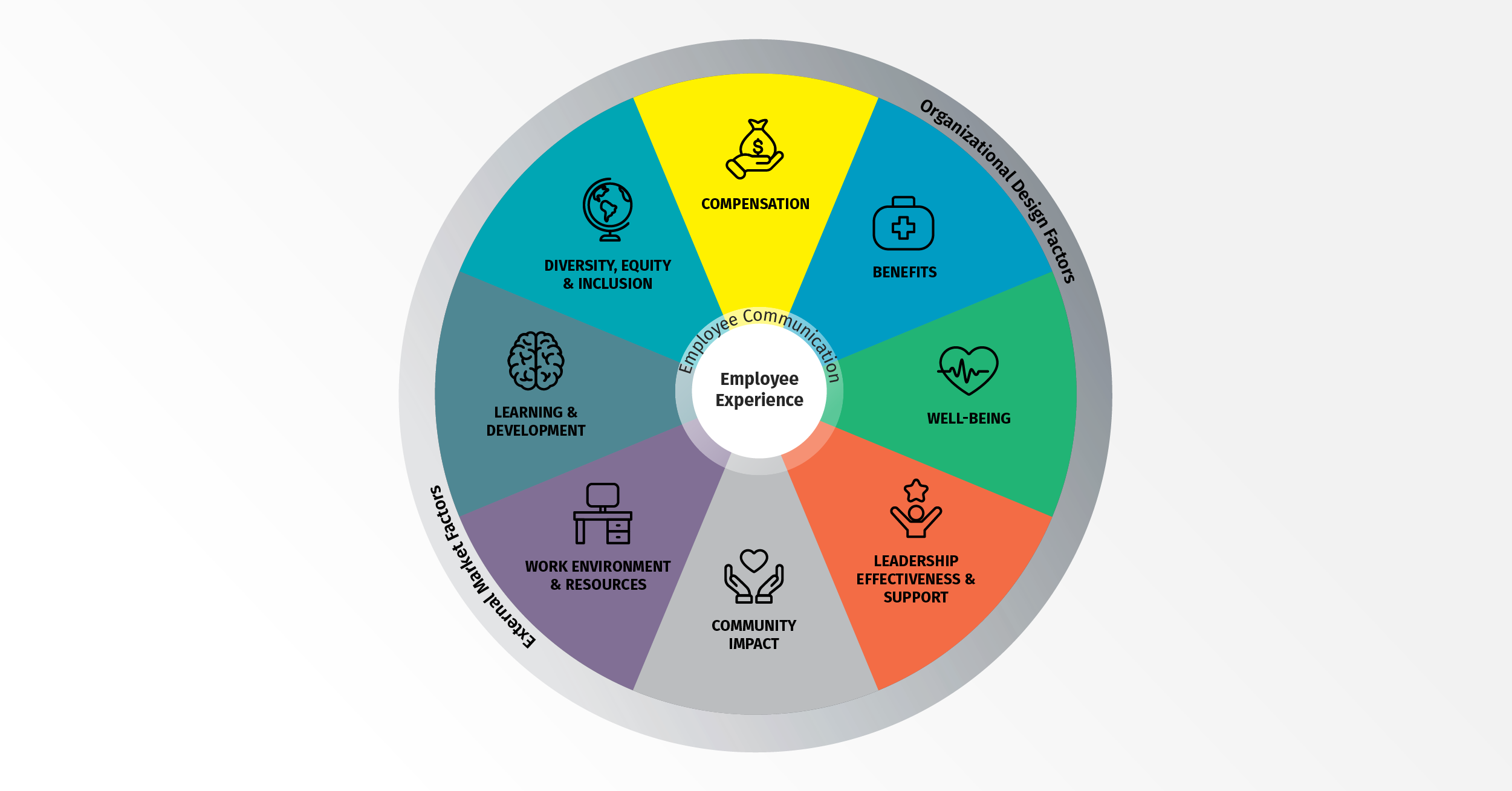 There is no shortage of rewards available for consideration. The key is to thoughtfully manage the process of finding the rewards that match your business strategies and the desires of your employees.
Customizing total rewards for the remote workforce
Remote work itself can be a key differentiator in your employee value proposition. However, the reality is that more and more companies are offering remote work, even post-pandemic. It's simply not the differentiator on its own that it once was. In fact, we now see employees demanding it, and many employers are making remote work a cornerstone of their culture and talent strategy.
Here are few of the ways that companies can do more than just make remote work an option, and instead make it a part of your total rewards package.
Prioritize mental well-being and teletherapy benefits
The NFP 2021 US Benefits Trend Report indicates that more than 1/3 of Americans have displayed clinical signs of anxiety, depression, or both since the coronavirus pandemic began. Not only is this a substantial public health issue, it also has a major impact on the success and health of organizations. By addressing mental health concerns, and more holistically well-being, companies can:
Improve morale
Increase productivity
Aid in employee recruiting and retention
Lower absenteeism and increase engagement
Lower employee health risks
Improve economic competitiveness
With a remote workforce, it can be more challenging to gauge mental well-being within your workforce. When you see people in-person every day, it's far more likely you'll pick up on bruises from an abusive relationship, or smell alcohol on someone's breath, or sense when a once chatty co-worker is depressed or anxious because they're dealing with stressors at home. While we might get a window into someone's home environment through a Zoom call, there is a lot that isn't seen through a webcam. Offering mental health benefits, and encouraging people to use them, can help.
The availability of resources can vary greatly across the globe. Luckily the number of companies offering telehealth and teletherapy benefits has exploded, which can help equalize the benefits offered across your entire population. Text-based mental health coaching, virtual therapy and psychiatry have increased exponentially and that's a trend that we believe is here to stay.
Be thoughtful and transparent with your comp philosophy
Compensation is foundational to our working relationship. It's also challenging. It's easy to just look at the market or the competitive situation and say, 'we will pay at the market rate or slightly above', however, not everyone can or wants to do that. Compensation needs to be viewed through a strategic lens and be accompanied by a philosophical framework that reflects the employer's culture and strategy. For example, a company in the early start-up and growth phase may choose to pay above market in incentive pay to motivate their team to reach growth goals, and pay at market in base salary, and offer a less robust benefits package.
This becomes more complicated with a remote workforce as there are different considerations on how to pay. It's important to reevaluate your current compensation philosophy and ensure it still allows you to attract and retain talent in the new environment. There isn't a one size fits all approach. For example, Google has created a calculator that allows employees to see how their pay would change if they switch to working remotely permanently. Facebook and Twitter also cut pay for remote employees who move to less expensive areas, while others such as Reddit and Zillow are keeping pay constant regardless of location.
Even if you have had a remote workforce for many years and don't change policies, the focus on this issue may be raising questions within your team. Be transparent about your company's philosophy, and how it fits into your total rewards package. You can find more on compensation approaches for a remote workforce here as you evaluate next steps for your company.
Offer a home office stipend or co-working space
Creating the perfect home office environment can be expensive. Providing a stipend or reimbursement program to allow your team to purchase the furniture and equipment they need, as well as the decorative or personal touches that make them feel productive and energized, can be powerful and support employee engagement.
An allowance toward a shared office or membership for a co-working space may also help solve some challenges for remote workers. Providing an additional physical workspace for those who may not have suitable space within their home (or who just need a change of scenery) can go a long way in improving productivity and enhancing creativity. It can also help foster connections and relationships between co-workers.
As with many remote work benefits, flexibility is key. Some companies may find employees prefer a stipend, while some might find it works best to arrange a co-working space on a team's behalf – especially for companies that have large cohorts of remote employees in specific locations.
Create mentoring programs
Most people crave connections with their team. When employees don't come into an office every day, mentoring programs can create this connection. They can also reinforce and enhance your culture, and develop skills needed to make your company successful. A strong mentoring program can also foster diversity, equity and inclusion and develop leaders of the future.
Mentoring programs have also been shown to increase retention, particularly among high performers. When designing your mentor program, look for matches across departments, functions and locations to enhance communication and understanding throughout your remote workforce. This article on how to build a mentorship program that actually works will give you a few ways to get started.
Communicate total rewards early and often
A reward that is unseen, unfelt or unused is not a reward at all, it's an opportunity missed. This is why it's critical to communicate your total rewards package to your employees in a way that is timely, relevant and personal. Total rewards microsites, regular emails and webinars are just three examples of useful tools that provide employees with access to the information they need.
Depending on the resources within your company, this may be a project for HR, internal communications or even your entire leadership team. You can find more ideas to get started in this article on why digital benefits communication is a must-have for your hybrid workplace.
Bring it all together
When your total rewards programs are integrated with each other, your employees' needs and desires, and your organization's mission, vision and culture, you will create an unforgettable, employee experience that will allow you to recruit, retain and engage top talent.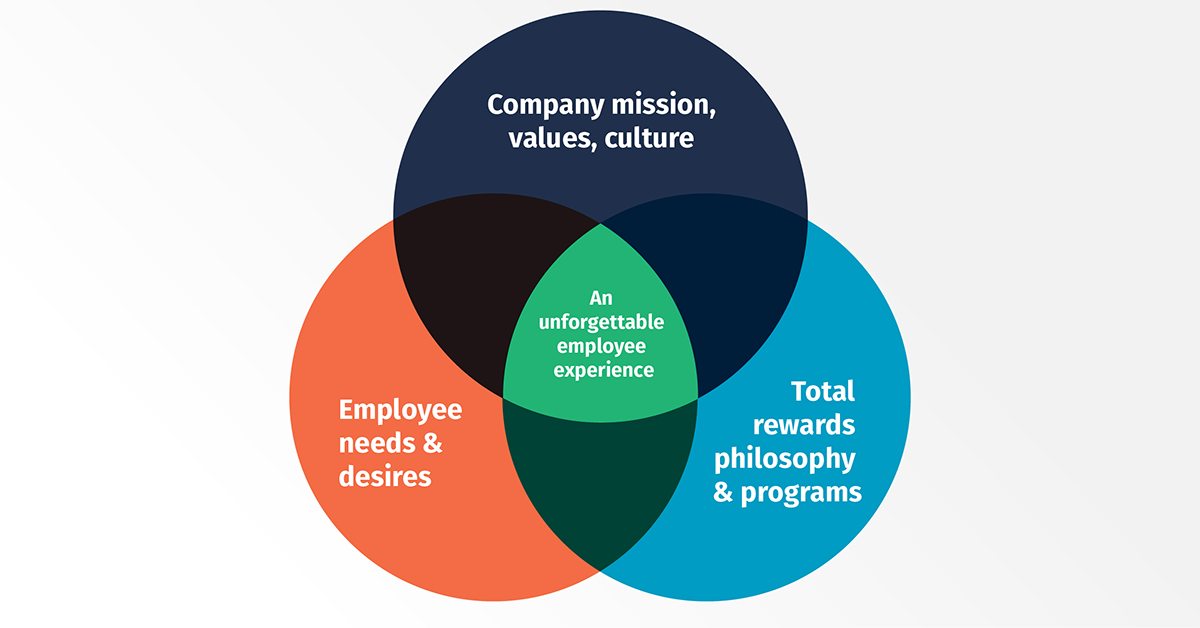 As you consider your total rewards for your remote workforce, think about the following areas:
Do you know what your employees value?
Are you intentional about your total rewards and how they work together?
How do you monitor and measure the effectiveness of your total rewards package?
How do you communicate this to current and prospective employees?
An early investment in total rewards will help you attract and retain the talent you need to grow, succeed and reach your ambitious goals down the road. Even if you don't have an HR team, spending time now to understand what your employees need and desire beyond just compensation will go a long way in creating an impactful program to engage and reward your employees for the future.