Today we celebrate International Women's Day, a day dedicated to celebrating the achievements of women and raising awareness about the need for gender equality. We've been celebrating this day since 1911, and while a lot has changed in the last 111 years, we still have a ways to go. This is especially true when it comes to women in tech and women in technical consulting.
The problem
Today, nearly 40% of consultants are women. My guess is that number decreases significantly when you get into technical consulting, although I have yet to find a good data source there. However, that ratio of women declines quickly as you move up to leadership levels. Only 17% of those at the partner level are women, and we're heading into the single digits for women who hold the top job.
As investors in growth-stage IT services companies who understand the importance of diversity to both society and a company's overall performance, we wanted to see if these general numbers held true in the companies that Tercera sees. So we analyzed 60 investor presentations from banker-led deals we had seen in the last year (IT services firms between $8M and $100M in revenue).
Here was what we found:
The median percentage of women on leadership teams is 20%
28% had no women on their leadership team
Only 1 company had a woman as the CEO
There are many different schools of thought for why this is the case – the glass ceiling effect, family demands, pay inequity, lack of role models and representation at the top, bias, etc.
Whatever the reason, we need to do better.
Diversity matters
Diversity matters for a whole lot of reasons, but one reason leaders and investors should care about quite a bit is the impact on financial performance. McKinsey research shows that those businesses with a systematic approach to diversity consistently outperform those that don't focus on diversity. This applies to both ethnic diversity and gender diversity. (Graph below)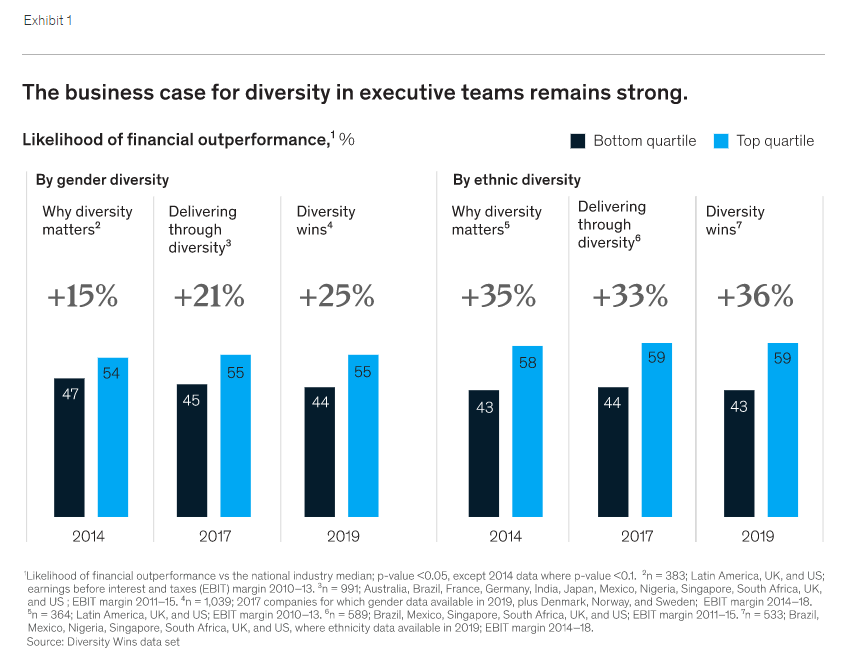 It's one of the reasons why diversity has become a significant focus area for venture firms, those covering them, financial analysts covering public companies, and most companies that have their sights on growth.
So what do we do about it?
Gender equity isn't something that's solved overnight. There's a reason why we've been celebrating International Women's Day for 111 years. However, there are things we all can do to make a dent in those numbers mentioned above.
Given Tercera's specialization and history in the IT services space, we are fortunate to know and have worked with some of the best consulting leaders in the tech industry. So we asked them: "What can consulting leaders do to improve gender equity at the top levels of an organization?" Here's what they said.
Fill the funnel. Every CEO starts somewhere. Focus efforts on filling the top of your recruiting funnel with more women. Spend time in your university recruiting efforts and your own families to educate young women why tech consulting is an exciting and lucrative career. Explain why consulting plays well to strengths that are often inherent to women like empathy, diplomacy, creativity and relationship building. Encourage people who might not be an engineer or developer to try it out as a career – consultants have many different interests and backgrounds. And then teach them to learn the language of business. Everyone should know how to read a P&L statement.
Treasure what you measure. Measure how you're doing on gender diversity across roles and levels. Even if you don't like what you see, you can't change it unless you know where you're starting. Then set realistic goals for the organization. If you don't have any women on your leadership team, start by hiring one and go from there.
Rethink your policies. The life of a consultant is not easy. While the pandemic has taught many companies and customers that you don't have to be in-person to be effective, there is usually an expected level of travel. That can be hard, especially for women who are often the caregivers at home or may be planning to start a family. Make sure your organization's policies support the right level of maternity or family leave, time off policies and travel requirements.
Support women leaders. Whether you believe in bias or not, it's not easy to be the only one who looks like you in a room. It puts a level of pressure on you to perform that others don't feel. Make sure their voices are heard and use inclusive language. Recognize the different challenges that they might be facing, even if they're different from your own.
Be a mentor. If you are in a leadership position, people look up to you no matter what gender you are – take the time to encourage and mentor those coming up in their career. This is equally important for women in leadership roles. As we've established there are fewer of us in those top roles, and it's our job to reach back and pull more women up. Remember, most leaders are developed and promoted through their networks.
There are nearly a half a million IT consulting businesses in the world today. Imagine how much opportunity that would open up for women if we could reach gender parity at the top of these firms, and how many better performing businesses there would be in the world.
This is why diversity and gender equality is such a big focus for us at Tercera. We're proud that 40% of our partners are women and women make up more than 50% of our organization today (a rarity in tech, consulting and investing). It's a big area of focus for us within our portfolio companies, but there we too can do better. We have not achieved our goal of investing in a female-led firm (yet!), but we are encouraged to see more female founders in our pipeline.