Last week was a big week for Salesforce and those who are building businesses off the back of the CRM juggernaut. Dreamforce was finally back in-person (albeit on a much smaller scale) and Salesforce took the opportunity to talk about everything from new product integrations with recent acquisitions to how the company is tackling data regulation and climate change.
During its analyst day, Salesforce also raised its FY22 revenue guidance and initiated FY23 revenue guidance to $31.8B, labeling itself the "fastest growing enterprise software company ever." Investors have taken notice and Salesforce's stock price has been on a run.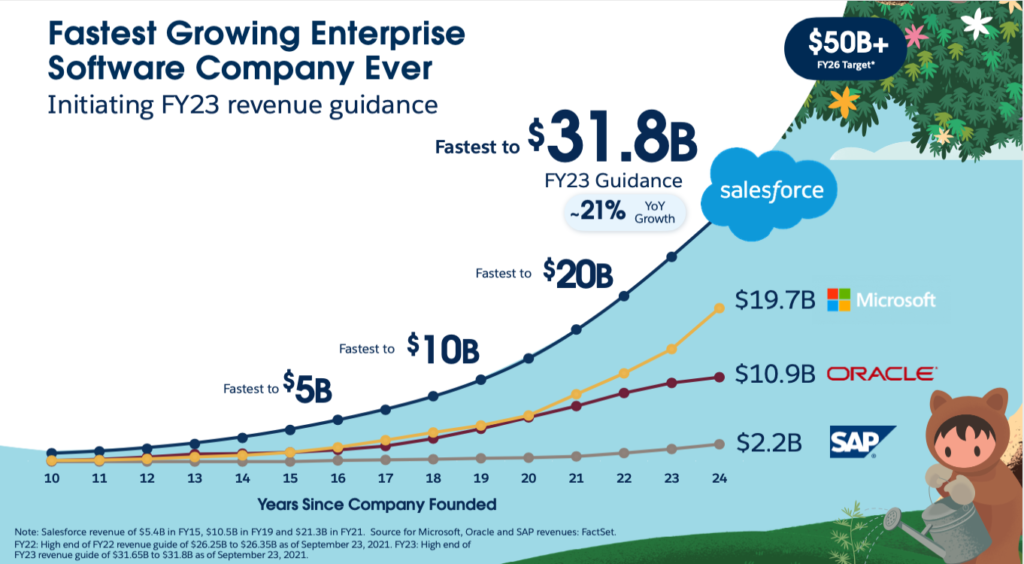 But the news extended beyond Salesforce itself, with two new research reports highlighting Salesforce's growing partner and talent ecosystem.
First, IDC released its annual report on the "Salesforce Economy" stating that this year the use of Salesforce and its ecosystem's cloud services will create $308B in new business revenue. That's expected to more than double by 2026 to $724B. While that's impressive on its own, I found the next stat even more interesting. "Today, the ecosystem of Salesforce partners delivering cloud services to customers is five times as big as Salesforce itself, and will be more than six times as big in 2026."
Another report highlighted the rise in talent demand for talent in this ecosystem. Every year 10K, a consulting partner and marketplace for independent Salesforce talent, releases its Salesforce Talent Ecosystem Report analyzing LinkedIn profiles, job boards and AppExchange data to understand talent supply and demand trends. This year's report found demand for Salesforce experts was up an astounding 364% YoY!
This all points to a huge market opportunity for entrepreneurs in the Salesforce ecosystem, but (and there's always a but) it also highlights how the ecosystem is evolving – and the opportunities and challenges that come with these changes. To understand some of these trends in more detail, we sat down with 10K founder and CEO, Nick Hamm. Here's some of the takeaways.
A growing imbalance between supply and demand
Let's start with the demand for talent. According to 10K, job listings for Salesforce experts have increased exponentially in the last year. In 2020, global demand was down 7%. Today it's up 364% YoY.
According to 10K, job listings for Salesforce experts have increased exponentially in the last year. In 2020, global demand was down 7%. Today it's up 364% YoY.
This is happening for a few reasons. Part of it is the pandemic. In 2020, a number of companies laid off or held off hiring. Now that the economy has bounced back, everyone is hiring at the same time. However, the biggest driver is the increasing investment in cloud, remote work platforms and digital transformation.
IDC predicts that cloud-related technologies will account for 27% of digital transformation IT spending this year, growing to 37% in 2026. With Salesforce positioning its Slack-first Customer 360 Platform as the new "digital HQ", it's in a great position to capitalize on that spend and that opens up enormous opportunities for its partners.
Unfortunately, capitalizing on this opportunity won't be easy. Simply put, Salesforce talent supply is slowing. While it's still growing 23% YoY, that's a 21% decrease in growth rate from last year. In 2020, the supply of Salesforce talent grew 29% YoY. In 2019, it grew 151% YoY. Some regions fared better than others (see graph below) but it's down across the board — at a time when demand is off the charts.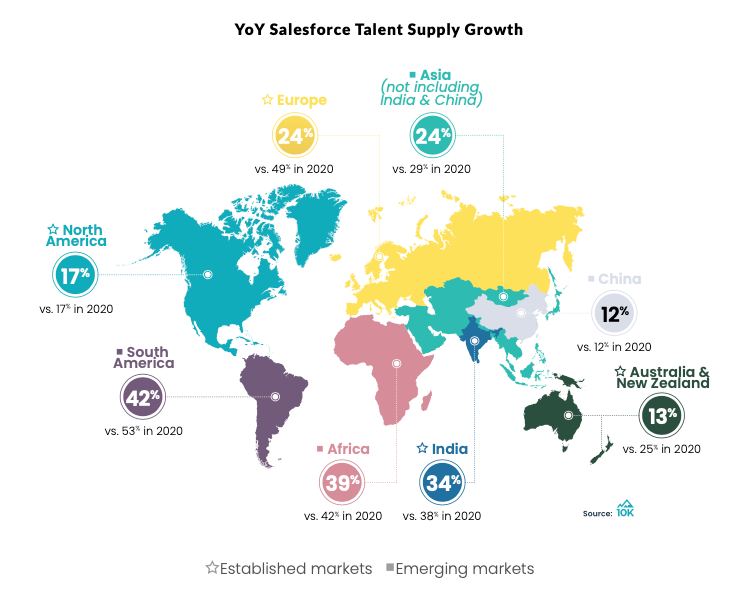 It's no wonder the Salesforce talent market has become the wild west. And a competitive market for talent is about to get more competitive as other cloud vendors enter the space and look to move up-market. Third-wave cloud ISVs like Twilio, Okta, Snowflake, ServiceNow and HashiCorp understand that customer success in the B2B enterprise market requires people, and they're taking a page from Salesforce's playbook to build out their own partner ecosystem. The war for cloud tech talent is going to get worse, not better.
The talent supply is shifting
While North America remains the center of gravity for Salesforce talent, supply trends are shifting focus to other regions — with a growing emphasis on Latin America. According to 10K's report, India still leads in the global share of Salesforce developers, but South America experienced the highest supply growth overall at 42% YoY.
While North America remains the center of gravity for Salesforce talent, supply trends are shifting focus to other regions — with a growing emphasis on Latin America.
IDC's research shows a similar trend. New business revenue is expected to grow faster in LATAM than any other region between now and 2026. For LATAM countries, 2026 CAGR rates are projected to be between 32-42%, while rates for the US (14%), Canada (17%), Europe (mid teens to 20%) and Australia (20%) are substantially lower. Even India, which continues to be a big focus for Salesforce and its partners, is expected to only grow at 27% through 2026. Here's a cool Tableau visualization on these stats.
LATAM's trajectory is reminiscent of India's Salesforce ecosystem in the early days. As more investments are funneled into the region, founders looking for talent should pay close attention to the supply and demand trends in this market and get in early if they can. LATAM will be a bigger player in cloud talent in the years to come.
The overall makeup of the talent ecosystem is also evolving. Salesforce has been vocal and proactive about increasing diversity within its ecosystem, knowing that it drives both innovation and performance. It looks like those investments are starting to pay off.
According to 10K's analysis of more than 3,200 LinkedIn profiles in established markets there is steady progress. The concentration of female versus male profiles in Salesforce-related roles continues to increase YoY. Europe saw the most progress, with a 10% increase in female profile concentration across all roles (Administrators, Developers, Technical Architects, and Consultants). Administrator roles continue to be the most gender diverse.
Unfortunately, diversity continues to be a problem in the higher-paying more experienced technical roles. Males still account for nearly nine out of ten Technical Architect roles and two out of three Developer roles within established markets.
Hiring and retaining a diverse workforce must be a focus area for any partner in the Salesforce ecosystem.
While gender is only one facet of diversity, these stats make me optimistic, even though there is clearly more work to do. Hiring and retaining a diverse workforce must be a focus area for any partner in the Salesforce ecosystem. Salesforce is pushing hard on partners in this area, and it will be more of a requirement than a nice to have for those looking for long-term growth.
Opportunities and challenges for Salesforce consultancies
The Salesforce consulting partner ecosystem is experiencing a similar trajectory as overall supply trends – still growing in the double-digits, but slowing. According to 10K's analysis, the number of Salesforce consulting partners listed on AppExchange grew by 14% YoY, about half as slow as new partner growth last year. It's also the slowest growth rate 10K has reported since starting their research in 2018.
The slowing growth rate is to be expected given the size and maturity of the consulting partner ecosystem, however, the make-up of this sector is interesting to watch as Salesforce expands. Of the 1,859 consulting partners listed on the AppExchange, 1,720 of the firms have fewer than 50 certified experts. Two-thirds of all consultancies have 10 or fewer certified experts.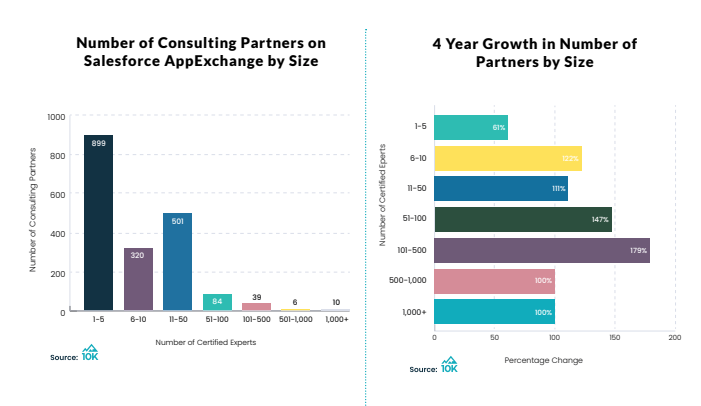 The fastest growing segment over the last 4 years according to 10K are mid-size firms – those with 50-500 certified experts. However, if you look at the number of consultancies in this segment, it's relatively small. This is partly because it's not easy for services companies to make the jump past $10M or $15M in revenue – it often requires capital and a different approach to growth. It's also due to the sheer amount of M&A happening in the space. There have been 67 acquisitions of Salesforce consultancies in this year alone, and many of the firms being acquired come from that sweet spot. If talent is a gating factor for growth in services, expect more M&A in the year to come.
What does all this mean to founders?
To me, all this data points to 5 things:
First, there is a huge opportunity remaining in the Salesforce ecosystem. We're 20+ years into the journey, and while Salesforce does have some challenges to work through to reach that $50B revenue goal in FY26, the TAM is huge and Salesforce has a track record of delivering.
Partners are going to continue to play a big role in Salesforce's strategy (as well as with other cloud vendors). IDC found that partners stand to make $6.19 for every $1 Salesforce makes by 2026.
Talent is going to be the gating factor to growth. Capital is not the hard part. Finding, growing and retaining the people who can make the Salesforce platform sing will be far a bigger challenge, especially as more cloud vendors enter the space and vie for that talent.
Where that talent is coming from and what it looks like is evolving. Firms looking to win in today's talent wars need to get proactive and creative with their talent strategies – prioritizing diversity, retention, training and new sources of talent like LATAM.
The Salesforce partner ecosystem is evolving too, presenting both opportunities and challenges to entrepreneurs. There's plenty of land to grab still, but it's getting more crowded – especially at the lower end of the market.
If you're a cloud consultancy looking for capital and counsel to take advantage of these opportunities in the Salesforce ecosystem, shoot us a note.