At Tercera we have a pretty simple mission: To empower the people and businesses that make technology work. "People" being the crucial word here.
Everyday we hear how technology is reshaping the world in profound ways — from the Artificial Intelligence in self-driving cars, to the Machine to Machine interactions (or IoT) responsible for our smart devices, to 3D printed hearts and homes, to the genome editing technology that made it possible to create a COVID-19 vaccine in months rather than years.
We pour trillions of dollars every year into advancing products and technology, but forget technology is of little value without the people who invent, design, develop, deploy, integrate, test, use, secure, manage and advance it.
So why is it that people-centric technology services firms (the integrators, consultancies, and managed service providers) get so little attention from the investment community?
Isn't it surprising that the venture capitalists who pride themselves on identifying the next big thing overlook the fact that technology – especially information technology (IT) – rarely makes it big without talented people who have the special skills to put it to real use.
Over the last 25 years of building, leading and advising IT services organizations, I can't tell you how many times VCs told me "why not stick with products?" or "sorry, we don't do services." When my co-founders and I were building Appirio in 2006 to capitalize on the then nascent enterprise cloud computing market, we heard "no thank you" from more than 25 different investment firms before Jim Goetz and Sequoia Capital took a bet on us. A bet that panned out when we eventually exited for $500M in 2016.
Services Doesn't Suck
The IT services market is not small.
In fact, by 2021 it's expected to be a $1T market (Grand View Research) and the outcomes for services firms are nothing to sneeze at. Just take a look at EPAM, an IT engineering services whose market cap at the time of this writing is more than $19B. Or the likes of Globant and Endava, next generation publicly traded services companies that trade at premium multiples unheard of for IT services companies just a few years back. There have also been plenty of impressive exits and mergers over the years for IT services companies. While they might not be at the same valuations and multiples as software companies with an 80% profit margin, the value of these firms has been steadily increasing as the war for engineering and IT talent rages on.
Here are a few more reasons why we believe services companies deserve a closer look:
They are undervalued relative to the often bloated valuations of software companies. Because so few investment firms seek out and truly understand the dynamics of professional services firms, and these firms can be self funded in some cases, competition for deals is less fierce. This means valuations haven't been driven through the roof like product companies have.
They have a much easier path to profitability. Most IT services companies are profitable out of the gate because their "assets" can get to work right away. They don't require years of development like a product might before they start bringing in revenue. And when demand and margins are high, many of them can actually throw off cash.
They require less capital investment. Series A funding rounds have grown steadily over the years, and as of January 2021 average about $25M according to some sources, whereas the average early stage round for services firms is much lower — namely for the reasons mentioned above.
They often have far more predictable, stable and non-linear revenue than investors expect. Services companies are thought of as unpredictable and lumpy by some, but with the right combination of customer retention strategies, embedded IP and managed services offerings this doesn't have to be the case. These strategies can often drive growth that is non-linear to headcount additions, an often cited issue by the VC and PE community.
Plus, it's just a lot more fun and rewarding to invest in people than 1s and 0s. In fact, I can think of no greater mission than one focused on people.
Services Businesses are Different
There are of course some fundamental differences between people-centric organizations and those built around products and technology.
For one, leadership, company culture, and having the right things in place to recruit, develop and manage talent is a much bigger priority in services companies where people are the key asset, unlike software companies. People aren't binary the way code is, and talent (especially talent that is in high demand) has certain needs and expectations.
Then there are differences in how you plan and forecast, how you organize and enable sales, how you go-to-market and what elements of marketing you prioritize, and the importance of channels and alliances in how you scale. All of these areas look different in a people-centric organization compared to a product-centric organization, and they are constantly evolving. Especially as outcome-based pricing, pre-packaged IP, renewable services and vertical orientations gain steam.
I could go on, but my point is that different shouldn't equal "bad" or "hard." It's just different. Once you appreciate those differences, you can hone investments, priorities and processes accordingly. The problem is that most VCs and PE firms have a playbook, and that playbook is optimized for product companies. Not people.
What Makes Tercera Different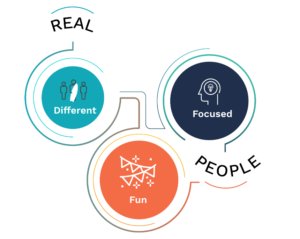 When it comes to people-centric businesses, the Tercera team has learned a great deal about what works and what doesn't over the last 30 years based on real-world experience. We are all services business veterans who have developed the pattern recognition it takes to know when it's time to grow or time to slow, when to double down in a market and when to expand, and most importantly, what elements must be in place to scale a successful, sustainable business.
We've learned from our successes, but also from our mistakes. We believe it's this insight, along with the industry connections we've built over the years, that can help the next generation of service businesses quickly grab market share, and build highly scalable businesses that go on to do great things.
We realize that there are thousands of investment firms out there, with more popping up every single day. Our goal is to make sure we aren't like everyone else. That we offer something different, and do things differently. This is why "different" is one of our core values.
We don't fit easily into a category. We're a unique balance of venture capitalist and private equity, where we look to both build something new and make something more profitable and operationally sound. As former operators and entrepreneurs, we look at opportunities through those two mindsets — not just what looks good on a spreadsheet.
We realize that great founders with a great business can get capital from any number of sources. So while we are primarily an investment firm, we believe our real value is our services-centric counsel and connections we can provide, not only from our own experience but through our Advisor network as well.
Tercera's Advisors aren't a loosely connected group of people put together to fill up a website. It is a curated, highly experienced and invested community of professional services professionals who have walked in the shoes of our founders, or led critical functions within successful services businesses.
That focus, a core value for us, helps set us apart. Tercera is razor-focused on investing in people-centric technology businesses, however, our first fund is even more targeted on the $460B cloud professional services space. This, along with our real world experience in these spaces, allow us to go a mile deep rather than a mile wide, and make us infinitely more valuable and successful in our endeavors.
We also strive to have a different vibe than your traditional investment firm. While we take our work seriously, we try not to take ourselves too seriously. As a team, we're pragmatic, approachable, honest, optimistic, and appreciative. In short, we're fun (our last core value). We want to be the kind of team who you want to work with during these exciting times, people who you aren't afraid to call when things go wrong and who you want to celebrate with when they go right. Because building a business might not be easy, but it should be fun.
This is who we are as a team, what we believe, and what you can depend on when you work with us.