A smart partnership strategy can be the difference between growth and hyper-growth for a professional services firm.
In the most recent Tercera 30 report, which highlights the top cloud ecosystems for partners, Tercera talks about the importance of picking the right strategic partner, and why who you pick matters greatly. Pick the right one, and you'll feel the tailwinds. Pick the wrong one, and you could waste time and money.
However, even if you have a strategic partnership that is successful and well aligned to your go-to-market (GTM) motion, there comes a time when you might need to expand or diversify to reach the firm's full growth potential.
I've spent 30+ years building, managing and scaling business development and partner programs for companies like Appirio, Oracle and Amberpoint, and in that time I've learned a lot about the importance and complexities of strategic alliances between professional services firms and their software partners.
This blog will pass along some of those learnings, and hopefully help you see the signs for when it's time to diversify.
The different types of technology partnerships
First, let's start with the basics. Most firms can (and should) have different tiers of partners — ranging from strategic to solutions to ecosystem partners. Each tier has their own implications for your GTM plan, but the top-tier, strategic partnerships are the most crucial.
Strategic partners are your closest GTM allies. These are the software platforms around which a professional services company can build offerings and practices, and partner with to drive leads and mindshare. Most mid-sized services firms have only one strategic partner. At most, you want two or three strategic partners. A common mistake of young or inexperienced organizations is to stretch too thin in this regard.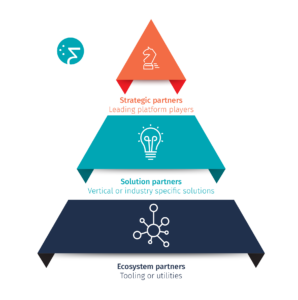 Solution partners are a step below in the priority ranking because they help you to fill out the tech stack and provide your customers with a more comprehensive solution. They are typically complementary to your strategic partners, and are often a part of your strategic partner's own partner network. Ecosystem partners are lower in priority, tangential solutions that help you bridge gaps and expand reach.
As the IT stack becomes more composable and large enterprises rely on an increasing number of technologies to operate, having capabilities and relationships across these solution and ecosystem partners becomes more important.
However, tiering your partners is critical for positioning and internal resource allocation. When prospects and customers visit your website, it should be immediately obvious which companies you consider a strategic partner. Sales and delivery teams need to understand which partners should get the most attention.
For example, Hakkoda, a data modernization services firm, has chosen Snowflake as its strategic partner. Snowflake's cloud data platform is a perfect solution around which to build an array of services, from data engineering and governance to custom development for data-rich applications. However, Hakkoda also works closely with a large number of solutions partners that are closely aligned with Snowflake to provide customers a richer solution – vendors such as Matillion, Sigma, FiveTran and Dataiku. But it's very clear from Hakkoda's partner page that Snowflake is the common thread and the strategic focus.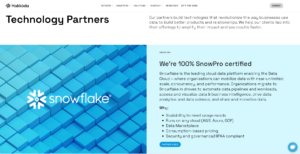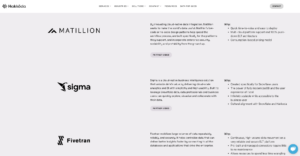 How do I know it's time to expand or diversify from an existing partner?
This is definitely more of an art than a pure science. Either way, it's important to take a proactive approach—don't wait until it's too late to make your move. You might want to reconsider your dependence if you see any of these warning signs.
The ecosystem is becoming increasingly crowded. Let's say you were an early adopter of a partner ecosystem. You had great brand recognition, sales and marketing traction, and a defensible white space in the ecosystem. But now, due to the partner's success, the ecosystem is becoming crowded. Your white space is becoming harder to defend. Large global system integrators (GSIs) are taking oxygen from the room. Services pricing becomes a race to the bottom as low cost providers enter the market. Uh oh.
You're bringing more value to the table than your partner. In great partnerships there will always be a balance of trade, where you bring them into deals and they bring you into deals. You help each other build brand recognition and drive customer success. But there may come a time where that balance of trade becomes imbalanced. If you're noticing less and less sales and marketing support or less executive engagement, that could be a warning sign.
Your partner is trending competitive in your space. As software companies grow and evolve, they may start to build their own internal professional services team or build offerings in areas that compete with you. Whether through strategy or leadership changes or acquisition. If that happens, it could have an impact on your business.
You're overly concentrated for your situation. Early in a business, where focus and being the best in the world at something matters, it can be smart to concentrate your efforts behind one partner. But there may come a point, often when you reach a certain size, where one wrong turn or market dynamic from your partner could put a big hit on your business. It's the classic "too many eggs in one basket" scenario.
Your strategic partner is starting to struggle. All companies go through ups and downs in their journey, and if you're seeing signs of growth slowing, margin pressure, major quality issues with the technology or slowing innovation, it might be time to seek new waters.
What are my options for new strategic partnerships?
Diversifying or expanding strategic partnerships isn't a decision to be made lightly. At the very least, you need a business plan that thinks through the following questions:
How does the new solution fit into your current GTM strategy?
What does it solve for your customer base?
How will this new partnership bring in new customers or expand existing ones?
How will you fit into the white space within this new ecosystem?
What impact will it have on your existing partnerships?
What resources will you need to invest, over what period of time?
Building new partnerships takes time and resources, so don't make these decisions without a plan. Once you have that plan in place, there are a few options:
First, you could shift sales, engineering and marketing resources away from your current strategic partner in favor of a new one. This can help make an impact quicker, but a seismic shift like this is also a big risk.
Second, you could keep your current strategic partner while adding on some complementary and adjacent solutions partners. With this path, you might be able to keep your GTM motion, while expanding into a new adjacent category. It allows you to become less dependent on your strategic partner, while you start moving towards one or more newer partners. However, this will likely require additional resources to train sales people, develop new marketing materials, and build a solution for an entirely new market segment.
The third option is bringing on other strategic partners that are in the same segment as your existing partner. For instance, if you're an AWS partner, you may choose to also partner with Google and Microsoft Azure. This can significantly open up your total addressable market, however, there are some risks here. Going from being all-in on one partner to becoming more agnostic could require a substantial adjustment to your GTM strategy. You may also need to invest more in sales and marketing as you move away from a partner-led GTM to a direct sales model. Finally, you could lose momentum from your current strategic partner if they believe you'll push deals to competitors.
How do I work through the options of a new partner?
Ultimately, your partner selection comes down to what you believe will set you up for long-term success. It requires data analysis, executive team and investor input, and a thoughtful plan.
You're also going to need to define both the internal and external criteria for your ideal partner. Here are some questions to get your started:
How do they fit within your corporate strategy?
How do they align with your growth objectives?
How can they expand or complement your current capabilities or offerings?
What's their position in the competitive landscape?
What's their geographic coverage and focus?
How mature is their partner ecosystem?
What level of support will they provide?
From there, drill down into specific metrics like growth rates, perceived white space, and what specific services opportunities these partners could open. The Tercera 30 report is a great resource for some of this data. Before your team reinvents the wheels, start with the 30 cloud ecosystems that Tercera thinks holds the greatest opportunity to build a substantial services firm or new practice.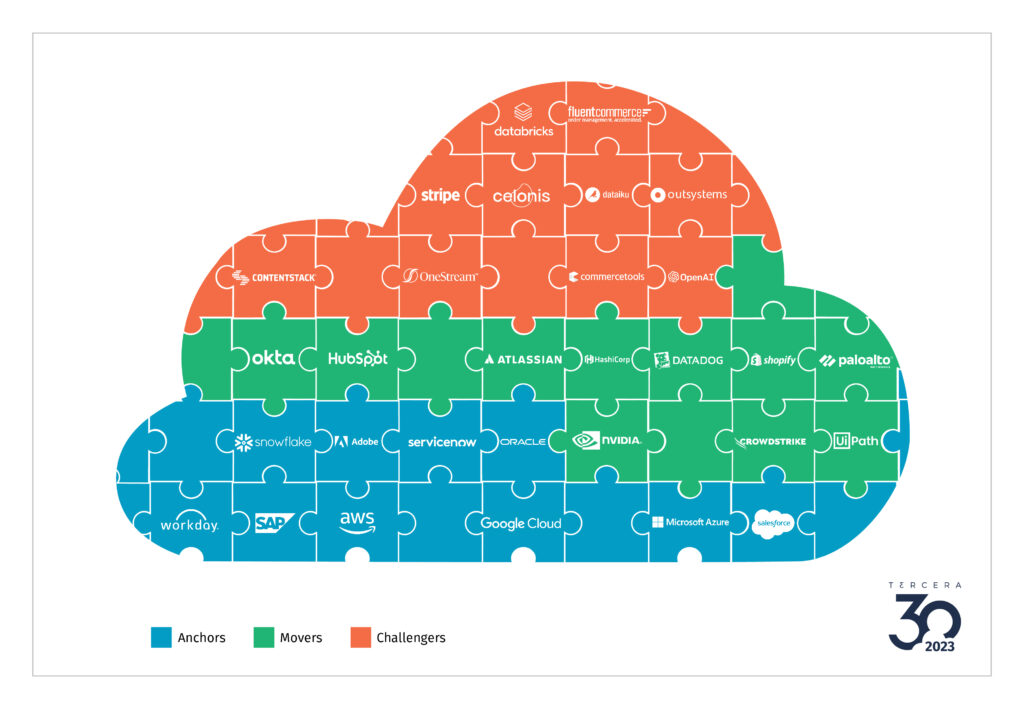 Once you have your short list, think through these considerations:
Monetary cost. Will you need a new sales team, more marketing budget, etc?
Opportunity cost. Will this pull your attention too far from other profitable areas?
Time. How long will it take to see results from your investments?
Channel conflict. What issues might this create with your other partners and how do you prepare for that?
Internal ability to execute. Do your skill-sets cross over? Does the organization have the capacity, budget and will to pursue this new partnership?
You don't have to boil the ocean, and you'll never have all the data you want, but you need to see this laid out in a single plan so you can get alignment across the executive team and your investors.
Don't wait too long. A common pitfall is waiting until it's too late. Start your research and analysis before crunch time. As you do move forward, remember that these decisions don't have to be forever. Take the time to do your research, answer the questions that we've laid out above, and perform a careful analysis, but don't get into analysis paralysis mode or you'll end up behind.
Make an informed decision. Act and adapt.